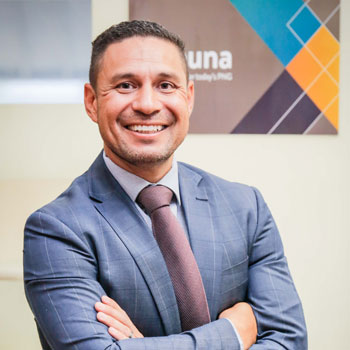 Sean William Vincin ("Sean") is a senior corporate manager who specialises in commercial management and business development. Sean is the Country Manager and Company Director to Peuna PNG and specifically leads the Special Projects Consultancy Team.
Having been born and raised in Papua New Guinea, Sean has an ingrained understanding of the PNG cultural landscape and after completing his Secondary and Tertiary education in Australia, he returned to Papua New Guinea as a management professional.
Sean's achievements since returning to PNG have been quite remarkable, all of which continue to shape a distinctive reputation among peers and the wider business community.
Currently, Sean leads his selected consultancy team to manage; all events and the commercial responsibilities of the "National Football Stadium". In the past 18 months as Commercial Manager, Sean has incrementally increased revenue to the stadium by 2.2 million (PGK) per annum by providing stability, structure and innovation to the facility's existing operation. These key elements leading to consumer confidence in order to attract corporate sponsorship and general patron investment to the stadium.
Papua New Guinea's hosting of the, 2018 Asia Pacific Economic Cooperation (APEC) is arguably the country's biggest achievements on a global scale. Sean was hand selected by the APEC Business Advisory Council (ABAC) to serve PNG as Programs Director. Sean was tasked with the responsibility of planning and implementing 3 global scale summits and 24 supporting events in the space of 6 Months. APEC'S most prestigious event, directed by Sean was:
Sean directed the congregation of 1,000 of the world's leading and most distinguished business CEO's to sit a 3-day summit before the world leaders of the 21 APEC economies. Some of the world leaders included; Prime Ministers of; Australia, New Zealand, Canada and the Presidents and Vice-Presidents of; China, USA, Chile and Russia.
This major event alone, also had nine (9) sub-events, all of which fell within Sean's area of responsibility. Some of these sub-events included:
The CEO Summit Welcome Cocktail (1,500 distinguished guests)
The CEO Summit Gala Festival (1,800 distinguished guests)
ABAC Members Dialogue with World Leaders (exclusive and interment dialogue meeting between World Leaders and Business Representatives of each economy)
Prior to Sean and his associates building Peuna PNG from the ground up, Sean was the Business Development Manager, for one of PNG's most dynamic Oil and Gas exploration companies. His achievements while in this role saw the business's revenue growth through new opportunity by ~70 million (PGK) in 15 months.
Keys to these successes have been and continue to be:
Strong networking, communication and relationship building skills,
Strong understanding and analyses of competitors in the market – both locally and internationally – and an ability to identify internal capabilities and unique value propositions in order to pitch them to clients,
Ability to lead and manage diverse teams of internal and contracted staff to ensure relevant skills and expertise are leveraged to produce high-quality advice, proposals and tender submissions, and
Ability to manage competing priorities and multiple, concurrent tender processes within tight timeframes, including completion of costings and development of contractual, technical, HSE and commercial packages.