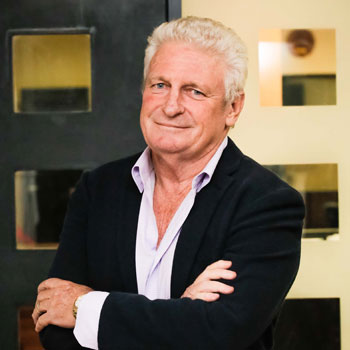 30+ years of proven and experience senior and executive management roles in PNG.
Kenneth James Vincin ("Ken"), is a Senior Executive Manager that has served a professional career in Papua New Guinea. His contribution to Mount Hagen, the Western Highlands Province, the greater Highlands region and PNG as a whole is commendable.
Ken is currently the Country Director for Peuna PNG Limited. He formed this company in 2016 and leads a team of skilled and dynamic personnel that provide business solutions to the General Business Sector and Oil & Gas Exploration Industry, as well as the greater PNG Property and Facility Management market.
Ken's professional career began when he returned permanently to Mount Hagen, Papua New Guinea in 1975 after attending the University of NSW in Sydney. He took on a position working for Wamp Nga Group of Companies, where he served with loyalty until 2003. During these 28 years, 13 years were served as Group General Manager, reporting to a Board of Directors from the Mount Hagen, Nebilyer and Angalimp Local Government Councils. Accountability was 100% transparent with Annual General Meetings being attended by all Councillors from all three Councils. This important contribution played a significant part in the Company's growth and development that sees it continue to operate today.
Some major achievements while at Wamp Nga were:
Leading development of the Western Star Trucks National Dealership
Contributing to the development of the Mount Hagen Market (Incentive Fund K7.5 million)
Securing a major Sponsorship agreement for the newly-formed Hagen Eagles Rugby League Team
Ken's contribution to Mount Hagen and the greater Highland's region is remarkable, with a generation of service to several business and social boards and committees, some of which pioneered positive change and growth that are still evident today. Positions of service and contribution include:
President – Mount Hagen Rugby League
Chairman and Committee – Western Highlands Chamber of Commerce
Chairman – Mount Hagen International School
Committee Member – Highlands Road Development Board
Committee Member – Mount Hagen Town Planning Board and Building Board
Council Member – PNG Institute of National Affairs (INA)
President and Committee Member – Mount Hagen Squash and Racquets Club
President and Committee Member – Pioneer Club
President and Committee Member – The Mount Hagen Club (Life Member)
Member – Mount Hagen Masonic Lodge
Ken Vincin's impeccable reputation and history with Mount Hagen is forged in stone and he has been a proud town and Province ambassador for over 40 years.
Following Ken's resignation from the Wamp Nga Group of Companies, from 2003 – 2007 the Porgera Joint Venture utilised Ken's cultural understanding and conflict resolution experience with local and landowner dealings. During these 5 years of service as  Community Affairs Manager, Ken was a part of the following major  achievements:
Supporting Supply and Operation of 700Km Highlands Highway, 1400 Km Riverine and 120 Km Electricity Power line supply.
Systemising approach to Road obstruction Clearance, both Natural and Community.
Oversight of Tax Credit Scheme direction and Project award.
Support and direction for regional HIV awareness and education programs.
Ken then took on the challenge as Group General Manager to one of Papua New Guinea's most dynamic Oil & Gas exploration service providers, Oilmin Field Services. Under his management and leadership the company achieved a 236% growth in revenue and 303% growth in fixed assets in 9 years, evolving into the OM Holding Group of Companies. He was instrumental in forming integrated support divisions within the group to provide a wholistic support service for remote exploration.
Some major achievements as Group General Manager of OM Holdings are:
Leading the inception and creation of a fixed and rotary wing airline, achieving CASA certification
Leading the development of a fully integrated shipping division, servicing remote riverine locations throughout Papua New Guinea
Leading a PNG National Company into a new era of Seismic exploration and Drill Rig Pad construction in the Petroleum Exploration Industry
The construction of a local manufacturing and production meat facility in Mount Hagen
Still today, Ken's contribution to Papua New Guinea is remarkable; providing employment for 100's of Papua New Guinean citizens from unskilled remote PNG labour to qualified and skilled PNG Professionals. Through Peuna PNG, Ken is a member with:
The Port Moresby Chamber of Commerce and Industry, and;
The PNG Business Council
Now residing in Port Moresby, Ken remains a Council Member of the PNG Institute of National Affairs (INA), serving his 19th year on this council.